Katrina Howlett
Lawyer
Cool as a cucumber, competent as a swiss watch and fast as a gazelle – the unicorn millennial lawyer .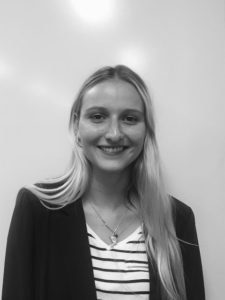 Katrina is fresh off the lawyer production line following her recent admission to the law and following a stint as a paralegal in our firm, Katrina now works in our property and business assets services area, occupying her days with commercial leases, business purchases and sales and residential conveyancing.
Katrina's promotion from paralegal to lawyer following her admission was an easy decision as she is analytical, precise, sharp, inquisitive yet super confident and ambitious; in other words, exactly what millennials should be but usually aren't!.
On a personal level, we are still trying to figure out what her obsession with wombats is all about (yes, wombats as in the odd looking animal) – her extremely tidy office is otherwise plastered with newspaper cutouts of wombats and if anyone has the misfortune to ask her about it, Katrina gives them the full David Attenborough explanation, until the listener's eyes generally roll over and they fall asleep.
Katrina is fun, very competent and mildly abrasive, which in our firm bades well for a long term and successful career!